The Ritz-Carlton, Grand Cayman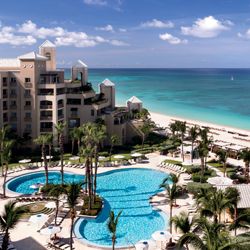 The Ritz-Carlton, Grand Cayman
This exclusive oceanfront resort caters to those who seek a grander level of relaxation and luxury. Situated on 144 acres stretching sea-to sea from the Caribbean to the North Sound, the property features 365 guest rooms and suites, five restaurants, a tennis center, two outdoor pools and an oceanfront Jacuzzi®, nine-hole golf course, spa and a Tiffany & Co. boutique.
...
Serving discerning travelers for more than 40 years JourneseSM embodies the promise of a memorable vacation experience, with fine travel made easy through our knowledgeable Destination Specialists.
Every vacation is backed by our world-class concierge service and can be completed with upscale amenities, all classes of air service, including first-class and exquisite experiences including private options, ranging from helicopter excursions to romantic dinner cruises. We p
...
The Ritz-Carlton, Grand Cayman