Read what our clients had to say about our agents and their vacations!!
We booked our first River Cruise with Viking through Party Time Travel. We obviously had a plethora of sometimes minor questions, which were researched if necessary and answered in detail by Linda and her staff and always with a smile. They seemed to be just as excited about our trip as we were – that's customer service!!!
We took the Viking Danube Waltz cruise up the Danube from Budapest, Hungary to Passau, Germany. We had added the pre and post extension through Viking in Budapest and Prague respectively. More about the cities below.
First and foremost, Viking was above and beyond all our expectations. Their service was impeccable. Everyone of the staff and servers went out of their way to assist in any way. The ship was the Ingvi (which we learned was only 5 years old). The food was outstanding and with many choices. At each city stop, the menu offered a local cuisine option in addition to the standard options available each day.
The cabins as expected were small but extremely comfortable (we hardly spent time in them) and the bathroom was modern and fully functional with a larger than expected shower.
Viking also includes at least one if not more included excursions in each city. We took advantage of most of them but also added a few paid excursions as well. As all cruise lines do, Viking provided their Audiovox aid so you could listen to the tour guide without having to stand next to them. Each of the guides were locals who provided their personal experiences which enhanced the value. As these countries were under German control in World War II and then behind the Iron Curtain their historical experiences added to the quality of the tours. As we left the ship for any excursion, we were offered a complimentary bottle of water.
With the pre and post excursions, booked in 5-star hotels chosen by Viking, there were Viking representatives available to answer any questions. In Prague, although the hotel was across the street from the metro, Viking provided free shuttles to and from the Old Town Square. We were even surprised on the day of departure, a Viking rep met the shuttle at the airport to assist us obtaining boarding passes, getting our luggage checked, etc.
Getting around all of the cities was relatively easy (we had planned some of our free time in advance with Pocket travel books). English was spoken almost everywhere and the people were always friendly and willing to help with directions, etc. (Note: Viking noted that for most of their river cruises, Americans represent 90% of their clientele.) We had read many suggestions on how to dress while touring European cities, to not stand out as a tourist. From our experience, you can simply follow your own rule of dress comfortably for the weather. Temperatures in mid-June were higher than expected in the mod '90s. Locals and tourists alike were wearing shorts, t-shirts, sneakers, sandals, baseball caps, etc.
The cities themselves were beautiful, full of history and architecture and the streets were noticeably clean without litter of any kind. Although could write info on each city, I have included a few pictures.
We will definitely talk to Linda at Party Time Travel for our next river cruise.
---
Hi,
I truly do not have the words to express the amazing vacation that was planned for us by Linda at Party Time Travel. My husband and I have not been on a vacation in a long time and it was a last-minute decision. We had no idea where to go. I just call them and gave them the dates and off we went. They are hands down one of the best travel agencies. They planned absolutely everything. If you are looking to plan a trip and it to be 100 % stress-free you need to call them. All we needed to do was pack and go. The most amazing experience. They sent us to Punta Cana and it was beautiful and relaxing. We are going to be planning our next trip shortly because of the great service they provided!! About our trip.We had the most amazing time... We are going to make plans to go again ( when I say we I mean you lol ) The people were great! The room was great! The beach was great! You guys are great! Thanks again
Lisa & Roland - Punta Cana, DR - November 2018
---
Hi Linda,
I have to tell you that Oceania exceeded our expectations. The food had to be the best we have ever experienced on a cruise. The specialty restaurants were unbelievable and the fact that there was no extra charge made it even better. Also it was nice that the dress code did not include any "formal nights". Service on the ship went above and beyond. I have always been satisfied with the service on other cruise lines, but never realized how much better it could be. The general mood of the ship was so easy that it was impossible not to be totally relaxed. I can't wait to do another one!! Also, there were no extras except for liquor and of course excursions. Another perk was that in some of the ports, they provided free shuttles to a central area where you could enjoy just walking around or connecting to taxis or public transportation. Of course thank you and your staff for all your help!
Maureen & Lou - Oceania Cruises, October 2018, 13 nights Venice, Italy to Barcelona, Spain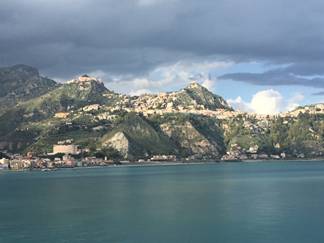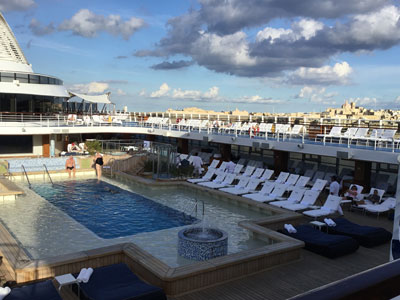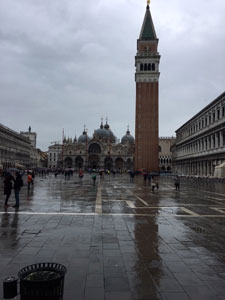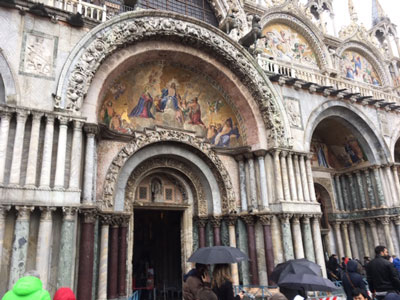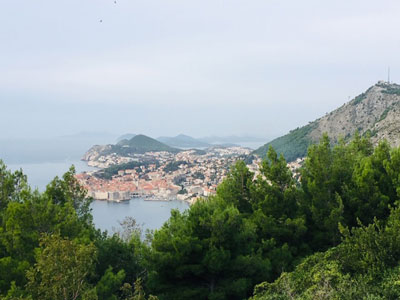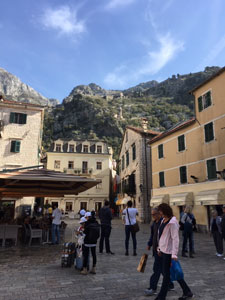 ---
Hi Linda, the cruise was fantastic delicious food , ship was breathtaking , ports was great as well. Still a lot of devastation due to storms. Weather was great minimal rain at times . Our dinning seating arrangement was awful we were not seated together as a group couldn't even see each other across the dining room but other than that it was great. Al Dialysis went well no problem offered, he was very pleased with his dialysis service.
Thank you again for your help, you are the best.
Annie – Royal Caribbean Allure of the Seas (July 2018)
---
June 23rd 2018 I went on the adventure of the sea ! Royal Caribbean ship i met up with friends on the ship. We had a great time ! Beautiful memories. We also went to Nassau Bahamas ! Party time travel took care of all our needs ! All we had to do was pack lol . Linda Lettre & her staff are the best travel agents ! I Can't wait to go on my 11 night cruise on royal Caribbean ! Anthems of the sea and meet up with my friends again in 2020 !

---
Hi guys!!! First of all.... thank you so much for the cruise credit! It came in handy with this bunch! Lol I am so annoyed though...now I can never cruise again in 1 cabin! You have completely spoiled me with the 2 cabins! Lol It's was great!! We had an amazing time! Loved our day at The Atlantis! Food was good, service was great! Don't know about anytime dining, as it isn't anytime you want. We did end up eating in the dining room every night but made the 7:30p reservations Because that's the only thing they had available. I still love the bigger ships (Allure/Oasis). It was a great trip!
Thank you once again for the amazing memories! Kim & Family – Royal Caribbean Adventure of the Seas from Bayonne, NJ (July 2018)
---
Hi Linda, Hope all is well, great trip! We enjoyed the ship and all the destinations. Russia was fascinating , we had a private tour guide and driver for the two days and the night we were there and they were great. Went to the summer and the winter palaces which were beautiful and everywhere else in the city. Weather was good almost every day, Sunny around 70. Copenhagen was a great city to leave from and we spent a few days there at the end which was great also. The rooms on the ship were very small for such a long cruise but we made the best of it. Dining on the ship was fine, not great, but the specialty dining was very good. Overall we would recommend, it was a Fabulous experience for the boys. Lots, lots and lots of walking!
Take care, Donna & Family - NORWEGIAN BREAKAWAY (August 2018), 9-DAY SCANDINAVIA, RUSSIA & BALTIC FROM COPENHAGEN
---
Hey Linda,
We really loved the place. They upgraded us to adults only building and pool which put us right across from the main pool. We could see and hear the music and activities but could stay in our own pool.. The place was modernistic and ikea looking. Loved it. Just thought the restaurants other than the French were kind of stark looking no real ambiance. That was the only slight negative. Thanks for steering us on this great selection.. hope your cruise was a good one... Happy holidays, speak soon. Thanks again..
Lisa - Finest Resort, Mexico, October 2016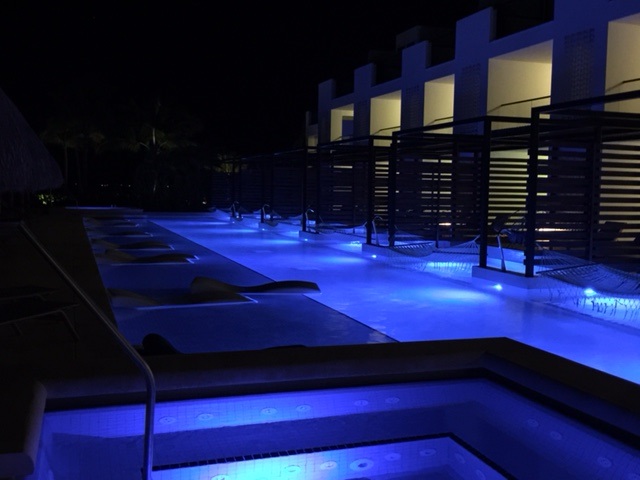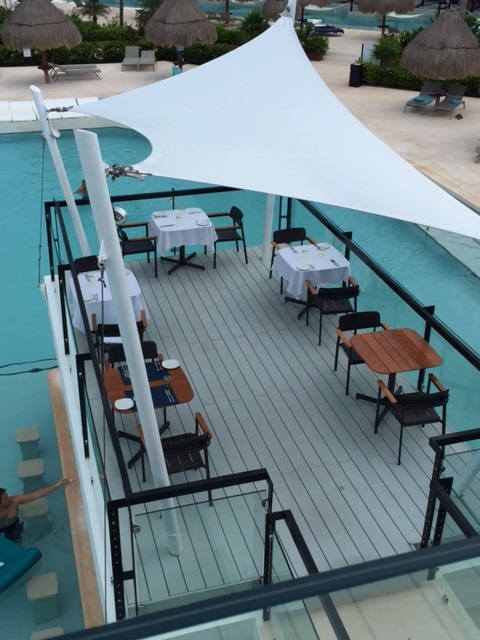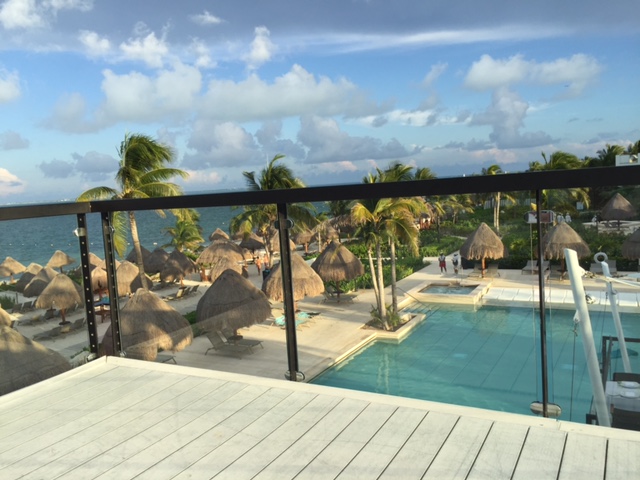 ---

Hi Lynda
This is Lindsay, Andrews wife. I just wanted to write and say thank you for booking our trip to Beaches Turks and Caicos last month. We had a great time from start to finish!! I apologize for the late thank you!
We truly appreciate you contacting the resort for an upgrade, which we did receive, the room was absolutely perfect. We were able to have Harper in her own room and we were still able to hang out in the other room after she went to sleep.. without disrupting her. I told Andrew were spoiled now and can't go back to a 1 bedroom now haha. It was funny.. when we arrived it took them a while to check us in and we were just sitting in the lobby. Then the lady came over and asked us to follow her so they could check us in.. She lead us way past the front desk and Andrew turns around and gives me a look and we both had a feeling we were getting an upgrade lol
Everyone there is just so helpful and friendly. The Sesame Camp for the kids is WONDERFUL. Can't tell you enough good things about them and how I never want to go to a place that doesn't offer that type of babysitting service. Just for the two hours a day we would leave Harper there it was so nice to know they were taking care of her. One day she ended up taking a nap and was still sleeping when I went to get her.. So I went back 30 mins later. I guess they just ended up taking her to lunch with the rest of the kids since she woke up (I always liked to get her before lunch so I could feed her myself) but I went to the restaurant where they were eating and was watching her (lol) she sat perfectly in the high chair and was eating like crazy for them! For us she was a handful and wouldn't sit still to eat. Every day after that we switched the time we would drop her off so she would eat with them.. this way we knew she was eating at least one good meal HAHA They have just so many activities for the kids it was unbelievable. I still can't believe how much was included in this vacation. You definitely get every penny you pay for it. Last time we went there we were worthless.. We just drank and went to the lazy river HA.. We still had a blast but we didn't do much that they offered. This time we took advantage of everything they had. The water sports, the special lunches they offered to returning guests, all the kids shows at night, the spa credit (last time we didn't even use the free spa credit.. What was wrong with us?!) We really did have a great time!! Having that room was such a bonus and again we really appreciate the work you put in for getting us that :) *Nice touch with the Thank You card we had waiting when we got home.. Professor Rolf's would be proud ;) #GoHRT #SUNYPlattsburgh
Many thanks, Lindsay, Andrew & Harper
Beaches Turks & Caicos Resort!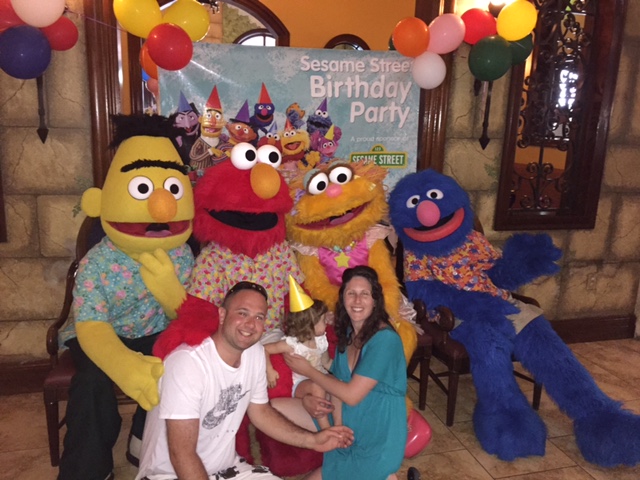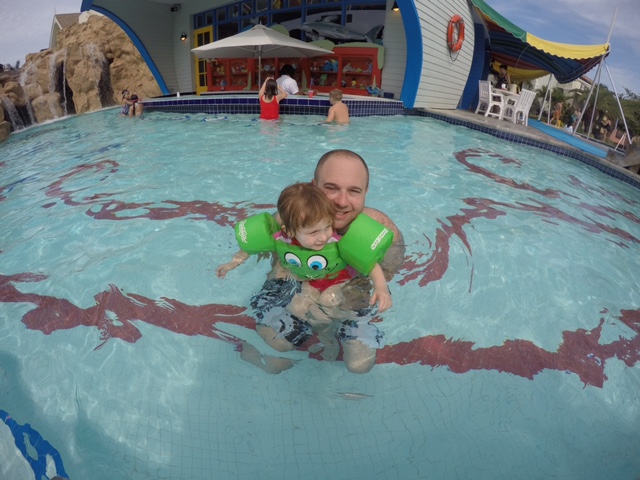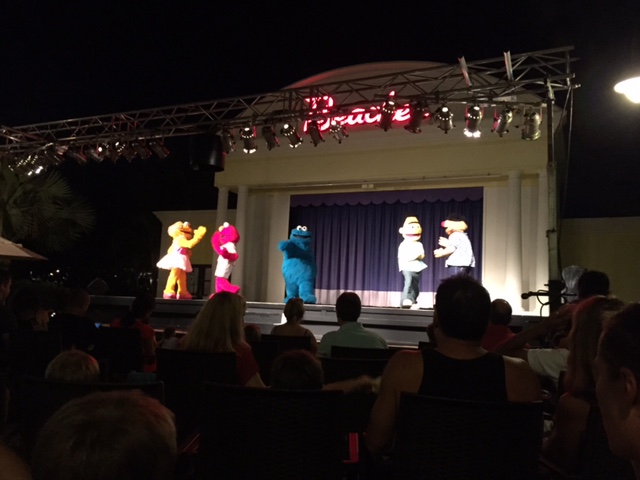 ---
Linda,
Thank you so much for the cabin you got us for the cruise. It was in the perfect position. We were by everything!
We had a wonderful and memorable Spring Break!
Thanks again,
Darlene & Family
---
Linda
Just to let you know the cruise was wonderful. Room, food and services were great. The cruise director and his staff were fantastic. A very talented group Several of them could be professional singers. We went to all the shows that were offer and the entrainment was top notch.
Also the entertainment at the other venues was great. After being on the Breakaway, I had some doubts being on a smaller ship. Those doubts were washed away. I found this ship more intimate and cruise staff more accesible . I would strongly recommended the Gem to anyone.
Peter & Esther H. - Norwegian Gem from New York City
---
Hi Linda,
Oh, we had such a great time!!! All we kept on saying was how thankful we were in listening to you and your guidance and how you steered us right! People are asking for your number!...and we are giving it to them.
Talk with you soon....we want to go again so please keep us in mind if you see another deal on the same type ship! It was GORGEOUS and GREAT!
Janice & Patrick - RCCL Quantum of the seas
---
I went to Party Time Travel for help planning my August, 2014 honeymoon. Lynda was by far the best travel agent I have ever worked with. We were unsure where to go, and she gave us information about potential destinations with pros and cons of each location, and she helped steer us toward Italy for our two-week trip. Lynda was so easy to work with and she took the time to know us and know what we wanted. We wanted a customized honeymoon rather than a packaged tour, and Lynda worked with us to design an itinerary to meet our every need. We wanted an exciting adventure that had a combination of fun, relaxation, romance, and cultural experience, all while staying within a strict budget. We decided upon Lake Como, Tuscany, Rome, and the Amalfi Coast with Lynda's guidance.
Well before we left for our journey, Lynda booked all of our travel for us from the flights to each individual train trip (through the Eurail pass), and even private transfers from train stations to the hotels. This was a huge help because and took all of the headaches out of travel! She selected the MOST amazing hotels for our trip, and it was evident upon our arrival that Lynda had put a great deal of work coordinating with the hotel staff. Each hotel's staff knew we were honeymooners, giving us the royal treatment including champagne in our rooms. In Lake Como, we stayed at the Grand Hotel Imperiale, which was located in a quiet town on Lake Como. It was a wonderful way to start off our vacation, with a private boat tour of the Lake and wonderful lakeside dining! Next, we went to Costello di Spaltenna that was located in Chianti within the Tuscany region. This was probably our most favorite hotel and one of the best parts of our trip.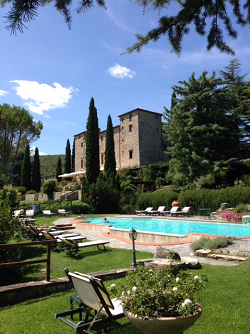 The hotel was located on their own private vineyard… it was everything you would picture your Tuscany stay to be! Lynda even helped arrange wine tasting excursions for us. Our third stop was Rome and we stayed at the Palazzo Montemartini. This hotel was modern and beautiful, and Lynda helped get us upgraded to the most amazing room! It was located close to the central train station, which was great for travel. I would highly recommend that hotel and make sure to check out their spa. Lastly, we stayed at the Grand Hotel Angiolieri, which was located on the Sorrento Coast near Amalfi. This hotel had the most spectacular views of the sea and of Mount Vesuvius.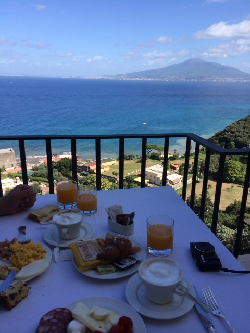 Before we left, Lynda made herself available for in person meetings, phone calls, and multiple emails. She researched activities, local culture and cuisine, and really helped make our journey special. I know this is a wordy review, but I would recommend Party Time Travel again in a heartbeat. Thanks Lynda for making our honeymoon a dream come true!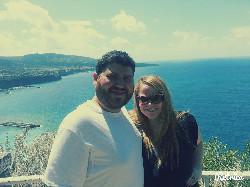 Emily & Ryan, Italian Honeymoon -August 2014
---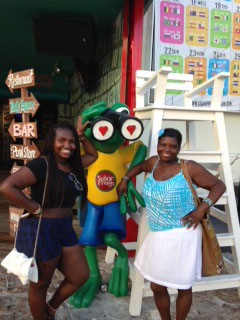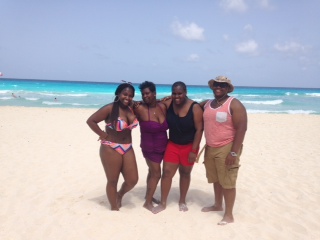 Linda & Stella,
Oh-my-god we had wonderful time! The hotel was great (Iberostar Cancun), the service and staff were great. The food was awesome! We did so much in 4 days. Thank you for everything
Simone, New York - Iberostar Cancun - June 2014
---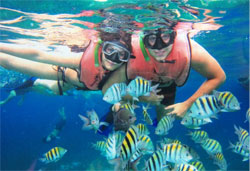 Linda & Stella,
OMG!!! First of all thank you so much for planning everything it was absolutely an amazing first vacation for the two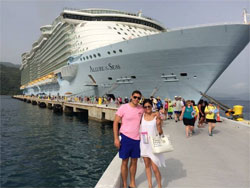 of us!! We not only had the most amazing time and had so much fun at all of our excursions, we met the coolest people and had the best dinner group on the whole boat! The boat was HUGE. The food was great and our room and balcony was amazing!
You guys really are the best and I cannot wait to plan another vacation!
Selin & Paul – Royal Caribbean Allure of the Seas – 6/15/14
---
With the stress of planning my wedding, the last thing I wanted to do was plan my honeymoon. My husband and I decided to use Party Time Travel, where we met Lynda.
I had three requirements for our trip because I am not the best traveler. I wanted a direct flight that was less than five hours. I wanted to go to a relaxing, tropical island with very little children. Finally, I wanted a room with a Jacuzzi. With all of those requirements being said, I am a teacher so the only time I was able to go on a honeymoon was during my breaks , which made airfare extremely expensive. Lynda definitely had her work cut out for her.
With all of those requirements in mind, Lynda chose the perfect honeymoon for us in Punta Cana. She took care of everything and I mean EVERYTHING. All we needed to do was give her our credit card number the rest was history. Lynda was personable, professional, knowledgeable, and went above and beyond for us. My husband emailed her a question on Christmas Eve and she responded with ample details about Punta Cana. She gave us insight of what to expect when we arrived at the airport, the food, the resort, the chilly weather at night, booking reservations at the restaurants, etc. The way that Lynda thoroughly explained everything about our trip meant a lot to me, because I worry about silly things right before I go on a vacation. I have to say that Lynda put my mind at ease and I am thankful for that.
We will 100% use Party Time travel again for our next trip. In our opinion, planning a trip is a hassle, so why not have someone who you trust plan it for you? Thank you Lynda for planning our honeymoon which was the most memorable trip of our lives!
Al & Dani – December 25, 2013, Majestic Resorts, Punta Cana DR
---
Good Afternoon Linda,
Both Genyne and I would like to thank you for taking care of our honeymoon reservations. Both of us had a wonderful time at Sandals in Antigua - the food was excellent, the drinks were flowing freely(of course), the room was really nice, the resort was kept up nicely and situated nice, the views of the resort were really nice, the beach was excellent...virtually no waves, soft sand, kayaks, sailboats, surf sailing, paddle boards all were great! The only thing we ran into was the service people were hit and miss. The people working in the pizza place were down right rude at one point and other people at times were, I guess, having a bad day. It seemed they didn't want to work there to us...however the percentages were about 70% friendly and 30% hit or miss. The French bakery people were always friendly and smiling and so helpful! That was our place of choice throughout the whole honeymoon....freshly made desserts every day and night. Food was our friend (or enemy - LOL) all week! You could do as much or as little as you wanted, we ended up doing the sailboats, kayaks, paddle boards, snorkeling cruise, and renting a wave runner. All in all what a wonderful wedding and honeymoon!!! From the week before the wedding to the day we got back from the honeymoon!
Thank you for everything,
Tom and Genyne Mroz - Sandals Antigua May 2014
---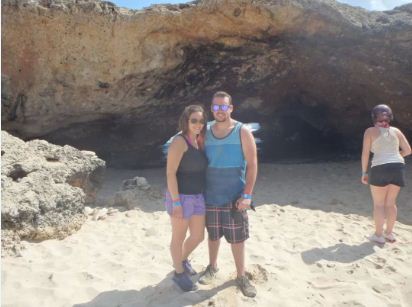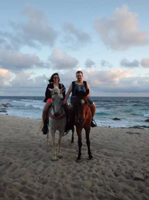 Thank you! Aruba was amazing. Tours were a lot of fun. We would highly recommend the Occidental Grand Aruba…. Food was good and plenty of choices. The resort is also in the middle of everything so it was nice to walk around. I have my tour guides number if you have anyone looking for a private tour in Aruba. He was great!
Thank you
Lexi & Denis – Occidental Resort, Aruba March 2013
---

I'm writing this review with absolutely no reservation for Party Time Travel in Nanuet, New York.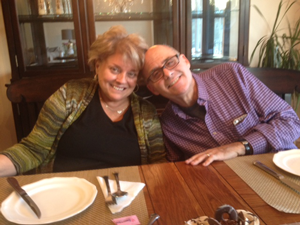 My wife and I first used the services of these travel pros in 2011, when we planned a European cruise on the Celebrity Silhouette. Their expertise and service was very apparent from day one. Their knowledge was impressive as they advised us as to port selection, time of travel and room choice. It was a wonderful cruise and land tour all laid out for us by our favorite personal travel planners. They made plans for major European excursions while stating in Italy before and after the cruise. We were given yet again expert service, care and concern with all our plans. Before we signed on the dotted lines though, both ladies recommended we purchase Travel Insurance.
We left on our trip and sadly as fate would have it, my wife had a serious accident on the day we arrived in Florence. We were lost and afraid and so alone. After I called Party Time, these loving and caring people called us every single day to be sure we were given the correct treatment. It was a mess but somehow we got through it knowing they were there. They went way beyond making airline and cruise plans. They were truly humane and helped us through till we returned back to the states. Lynda even called the American Embassy for us! Their recommendation to purchase travel insurance indeed saved us a thousand fold that we may have lost on our trip abroad but we gained so much more from them. We are beyond grateful and will only use Party Time a Travel for any and all of our travel needs.
Leslie & Gail - Celebrity Silhouette
---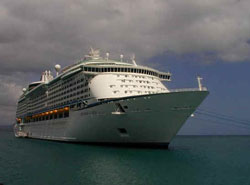 Stella and Linda,
Thank you so much for planning a great vacation! It is hard to believe we left a month ago today. Loved that we were able to drive to the Port and be on and off the ship pretty quick, the parking was so easy to do.(Our time to get off the ship was 10:30 and we were in our house by 11:45 AM.)
I loved the cruise director on the ship! He was so funny! I loved the entertainment (especially the 70s night). The ice show was great.I loved the ship and wrote nice things on my survey.
The dining room was good. We had a fantastic waiter and assistant waiter.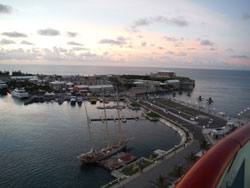 Our room was a great location on the 7th floor. Our friends were at the other end of the floor, so we would meet each morning at the Library (we laughed about that)!!!
The three days in Bermuda were great. We went to Hamilton / Horseshoe Bay the first day. Had dinner in the local pub right off the ship. The second day , we took the ferry to St. George's and then lunch Swizzle Inn (most of the afternoon). The second day was cloudy so perfect day to hang out in
the Swizzle Inn. We took the bus back to Hamilton shopped there. (Then took the Ferry back to the ship.) On Friday, we got up early took the ferry into Hamilton and did so more walking around and then back to Dockyard to shop. The last day we had rain but it didn't stop us we brought some rain poncho and off we went. The transportation was so easy from Dockyard, we took the ferry all three days! (Getting that three day pass made it so easy!!)
We hadn't been to Bermuda in ten years and were happy we were able to see it again!!!
Hope you both have a very Happy Holiday Season and look forward to working with you again!
Regards -Joan - RCCL Bermuda Cruise
---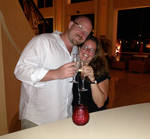 Dear Lynda,
Thank you so much for recommending the Majestic Colonial in Punta Cana! We had an amazing time on our vacation!! The staff was extremely nice, the food and various restaurants on the grounds were very tasty, and our over all experience with this all-inclusive was a very BIG thumbs up! Not only have we recommended Party Time Travel to our friends and family, we will definitely be heading back there for another vacation.
Thanks again for your great service!

Warmly,
Jaime & Matt Sullivan – Majestic Colonial All Inclusive Resort – Punta Cana, DR – June 2013
---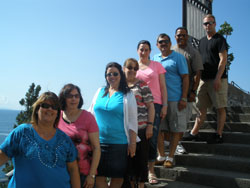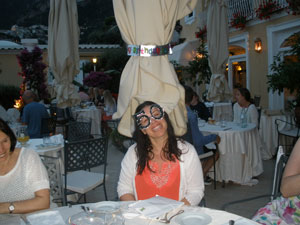 Hi Linda and Staff,

Just wanted you to know that our cruise on 'Celebrity Reflection' plus our stay in the Amalfi Coast was wonderful, exciting, beautiful and a thrill of a life time. The cruise ship was so new and gorgeous and it's staff were wonderful -- so was the food.

And we celebrated Andrea's 50th birthday in style -- what a way to go. Now we have to decide on which pictures we want for ourselves from our group of picture takers.

Thank you
Betty Cruz
---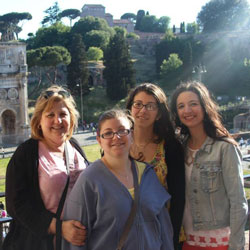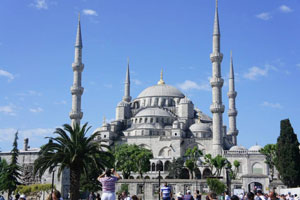 Hi Ellen, Linda and Lynda,
I have to thank you for all of your planning and recommendations for the cruise I took with my family.
The Celebrity Refection was a magnificent ship with extraordinary food and service. There was not a want I thought I had that the staff did not take care. Our rooms were spacious, comfortable and clean.
The excursions were fun and informative. The best one was the excursion to Ephessus, Kusadasi Turkey which was fabulous. When we landed in Rome, Alex from Amanti Di Roma, picked us up at the airport and later the same day took us on a private tour. We were able to go to the Vatican, the Coliseum, the Spanish Steps, and much more.
We had a once in a life time vacation. I will recommend you and this cruise to everyone!
Thank you again.
Grace Moyano – May 2013 - Celebrity Reflection - 11 night Eastern Mediterranean Cruise from Rome, Italy
---
Dear Linda and Lynda,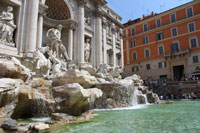 We are writing to say thank you for all your planning to make our Mediterranean cruise the trip of a lifetime!!! We came to you in November looking to make our summer plans. We knew we wanted to take a cruise in the Mediterranean Sea. You sat with us, listened to our wish list of locations, and helped us pick the perfect cruise for us! Once we picked the cruise, then we were on to pre-cruise days in Barcelona. Lynda knew the perfect Hotel and was more than patient while we tried to figure out which flights we wanted. You ladies were always there when we had a question about our trip and always got back to us with the answer quickly. Then when we got home you were there to hear about every detail about the trip, and even said you wanted to see our 3,000 pictures!!! Don't worry we wouldn't make you sit and look at all of them!!!
Thank you for your continued devotion to your customers, your hard work made our vacation AMAZING!!!!
Dana and Kurt Weber - Royal Caribbean Serenade of the Seas -12 Night from Barcelona, Spain
---
Our Easter getaway to Jamaica started off with flight delay's but we made it there! Thank you for all your texts and calls to make sure we got their safe and the Resort could extend us an extra day to make up for flights... Next time insurance will be taken..lol.. thanks Stella & Linda!
David & Family, Beaches Negril, Jamaica March 2013.

---
Linda & Stella… Just arrived in San Juan, Puerto Rico.. WE ARE SOOOOOOOOOOOO PLEASED WITH OUR ACCOMMODATIONS!!!!! The flight was wonderful, sorry we missed our shuttle (We caught a cab. We did not realize we had personal shuttle service). You guys are great. We look forward to booking a cruise with you probably in November! Well, time to get my drink on!
Brenda and Dwayne, Charlotte, NC
CONRAD CONDADO HOTEL San Juan, Puerto Rico – March 2013
---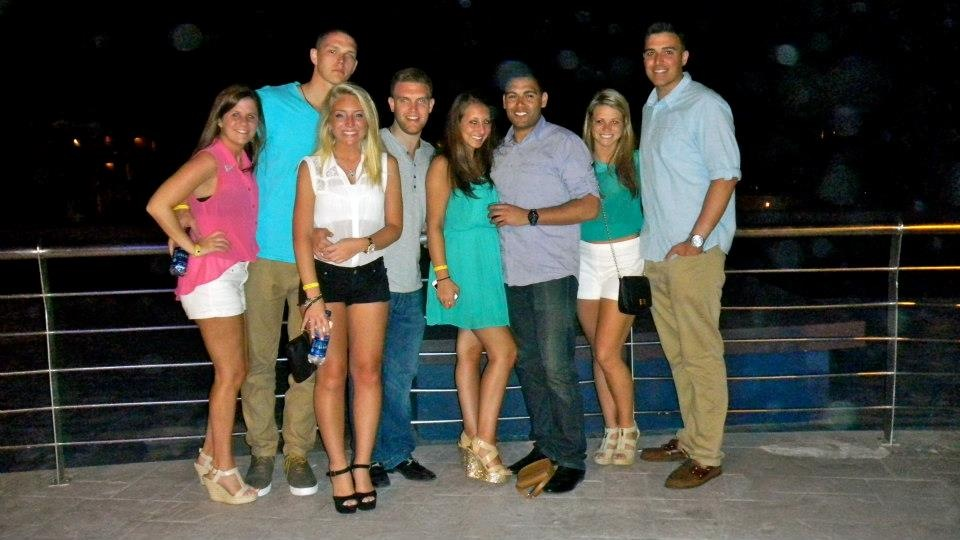 Hi Linda,
I just wanted to reach out and say THANK YOU so much for all of your help with booking our College Graduation trip to Punta Cana. We had a wonderful, fantastic time, and everything went PERFECT! The flight was great, the hotel and the rooms were great, the van service to and from the airport was fabulous and on time. Everything could not have worked out better. We really want to thank you guys so much. We will absolutely be doing business with you guys again in the future (this time, more time in advance). I know my mom mentioned wanting to go away sometime this summer so if she is certain, we will definitely go through you guys again. Thank you so much again, you guys are great!

— Best wishes,
Kaitlin, Michael and party, Majestic Resorts, Punta Cana, Dominica Republic – March 2013
---
Hi Linda,

I am so sorry. I have been meaning to drop you a line letting you know what a great time we had in Jamaica. That goes to show we need another vacation. Lol We had such a relaxing and enjoyable time. The Hilton was really nice and the staff was fantastic. We met some new friends which was cool. The worst part of the trip was that I gained a few pounds with non stop eating. LOL!

We have not stopped talking about going back. Thanks so much for putting such a great trip together on such short notice.

Fondly,
Annette and Neal – Hilton Rose Hall, Montego Bay, Jamaica - January 2013
---
Hi Linda & Lynda...

We had a great vacation. The place was beautiful…..clean….safe….food was good….pools very nice. Weather was fantastic. Everyday sunny and 84 to 88. Shows at night were very good. All inclusive was a bit below Sandals in quality…..but Sandals is the top. Communication at the facility was an area Sandals is just better at. Took a while to get in the flow of what was going on. Language issues with some of the help but nothing you could not get by. We would definitely go back there.

Thanks for finding us a great place. When I get the book together I will stop by and share more photos.

Bill & Trenna – RIU Resort Punta Cana, Dominican Republic - New Years Eve 2012
---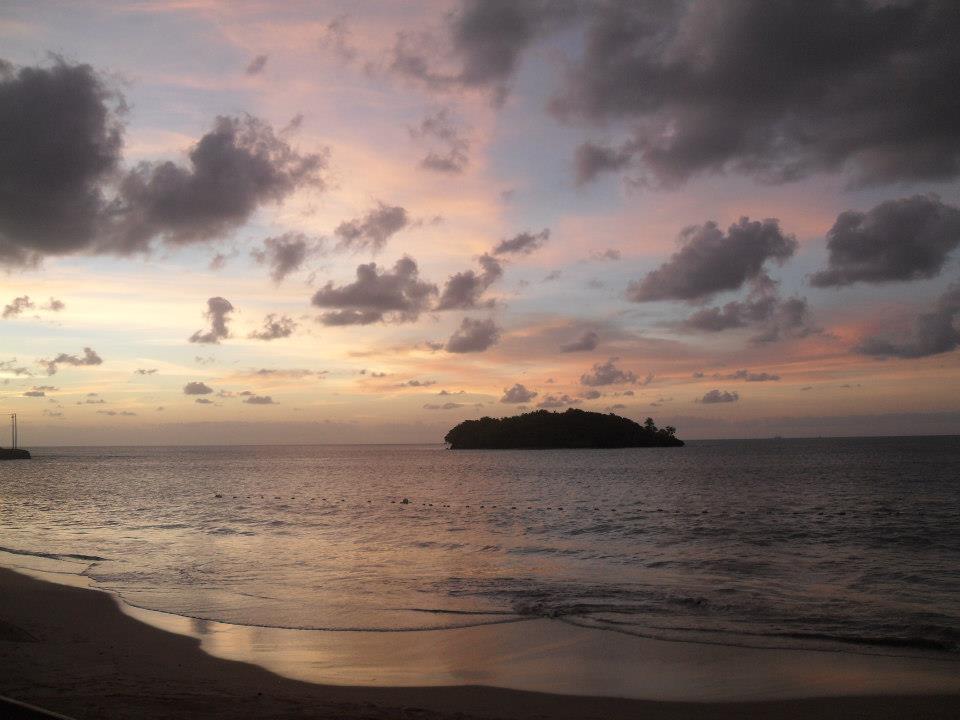 Hi Stella!
I'm so sorry I haven't gotten back to you sooner, it was so hectic when we got back! We sure did pick a hell of a week to go away!! I hope you and your family didn't have any major issues from the hurricane Sandy.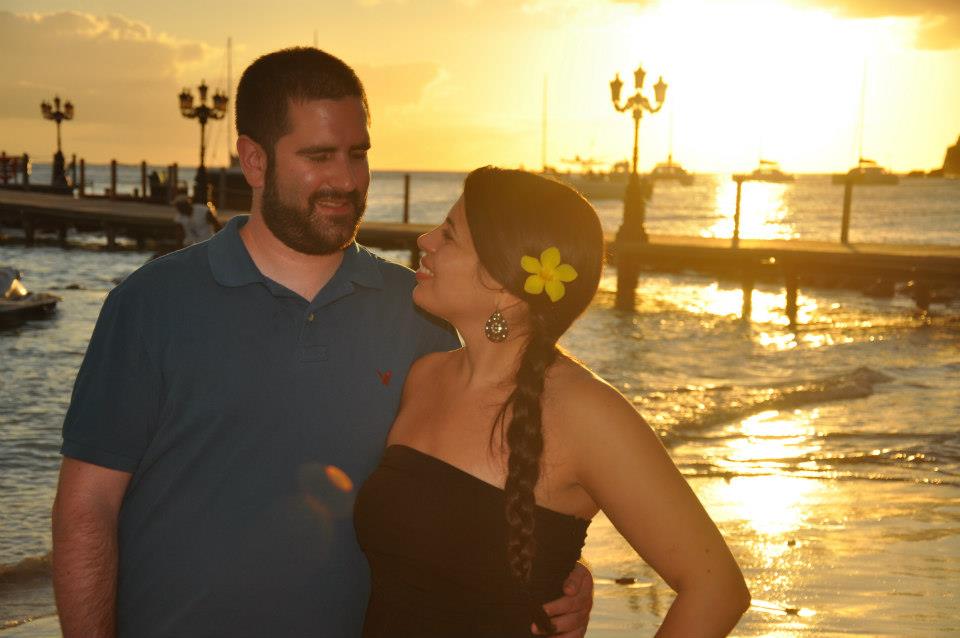 We had a great time at Sandals St. Lucian Grande - the food was excellent and I didn't have any issues with being a vegetarian because there was always vegetarian food no matter where we went, which was awesome for me. We went on an excursion to the hot springs and pitons and snorkeling, it was so much fun! We also did scuba while we were there. We really had an amazing time!!

Pam & Andrew – Honeymoon in St. Lucia, October 2012
---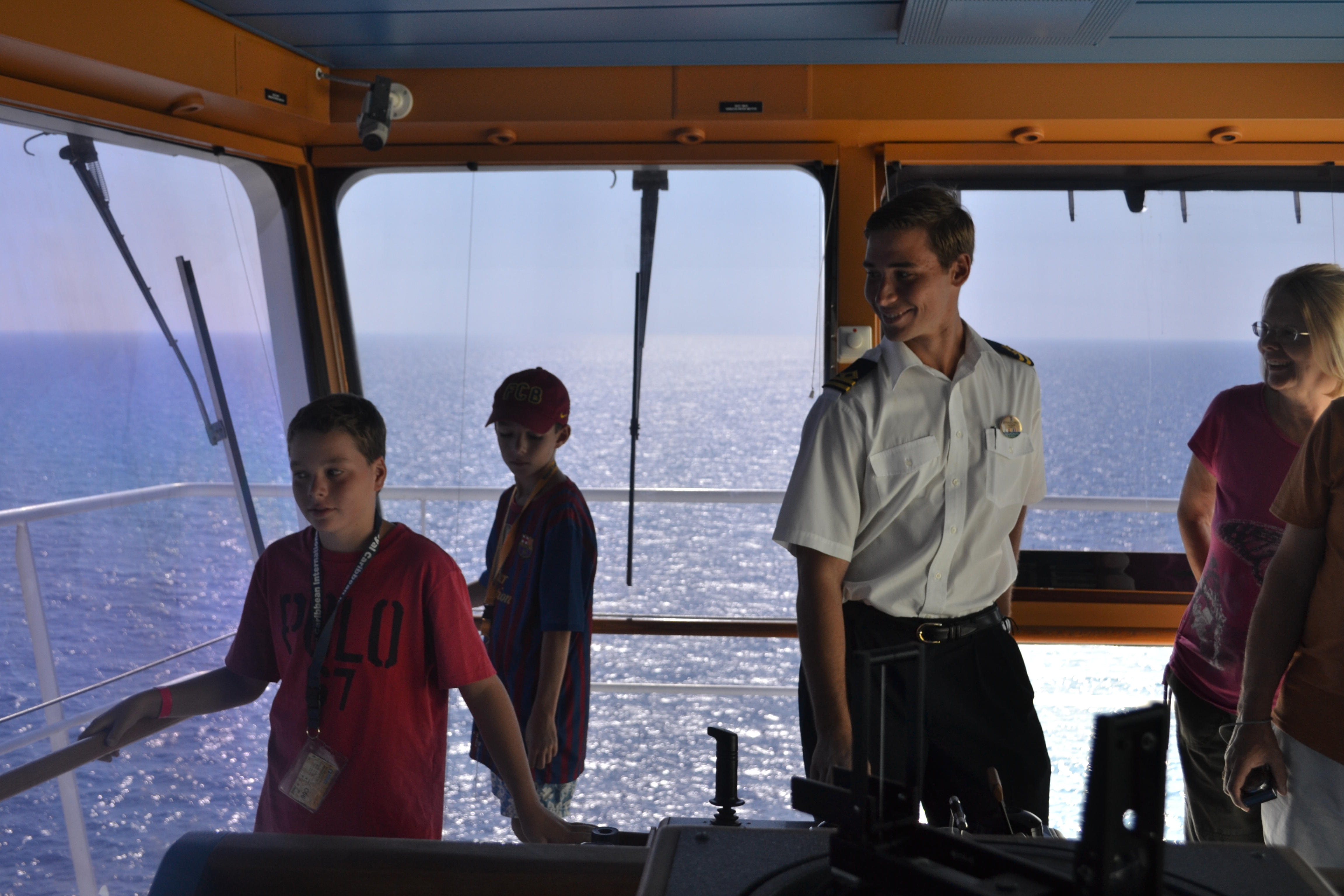 Hi Linda and Stella, the trip was wonderful. We really had a great time! Our room (Grand Suite) was wonderful plenty of room, the staff could not do enough for us. The boys really enjoyed all the activities on the ship. The staff even arranged a private tour of the bridge for the boys.
Weather was perfect but hot, we did not see a cloud for 12 days... The boys are looking forward to their next cruise. Traveling to and from Rome, Italy was easy, flights on time each way.
Many thank to both of you for everything!

Best regards,
Donna and Tom – Royal Caribbean Cruise, Mediterranean Cruise
---
Hi Linda,

Loved loved loved Mandalay Bay! I want to go back next year probably for Labor Day timeframe. Saw the Cirque de Sole "O" show which was amazing and acted like a tourist for a few days...LOL.

Thanks again!
Lorraine – Las Vegas
---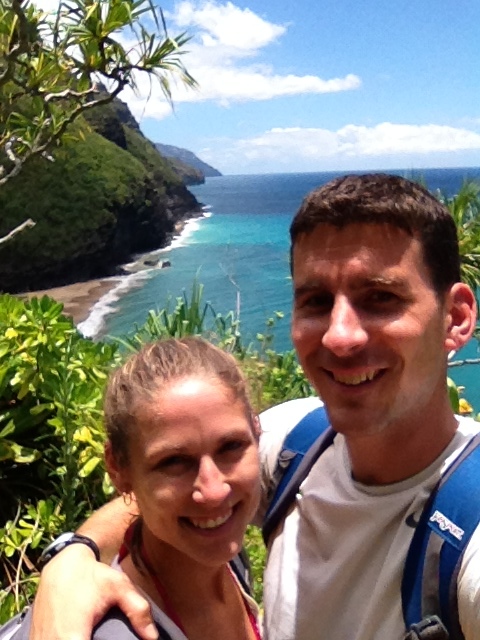 Linda & Lynda,
We loved every minute of Hawaii! We couldn't be happier with picking here for our 2 week honeymoon. Being able to see both island, Maui and Kauai, from top to bottom was amazing.
There is so much to see and do, from beaches, to jungles, and being on top of a volcano for the sunrise. Both places we stayed were amazing and only added to the entire experience.
---
Hey Lynda,

Sorry it took me so long to get back to you. Vacation was really great. Now Sapphire was beautiful. Perfect for a mother-daughter quick getaway. Unfortunately we only had one and a half days of sun. Two and half days of non stop torrential rain...but the place was beautiful, food and service were great. I would always do all inclusive from now on!

Thanks for all your work.

Linda & Lisa - NOW Sapphire, Riviera Cancun, Mexico
---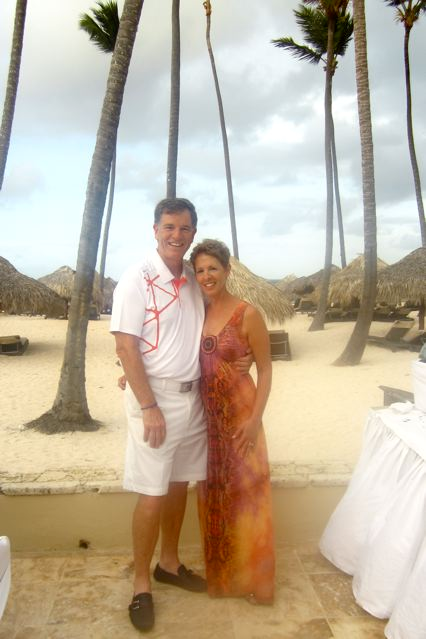 Hey Stella....

We are back and had a blast although at times it was a bit hectic trying to be a hostess to so many people. I now need a real vacation. The resort is absolutely beautiful both in the Reserve (Paradisus) as well as the main resort. For the most part, the food is good and some of the restaurants were actually very good. The buffets are adequate. Making dinner reservations was a bit tricky though since during the summer they reduce the staff and therefore stagger the sitting times. Frustrating at times since you would always see open tables. We had great weather.
All in all, great time had by everyone and I can't thank you enough for getting our rooms close together in the same building with our families. Bill's 60th Birthday party was fabulous and a lot of fun. I sent the resort a nice email as well.

Thanks again for everything.

Barbara & Family, CA – Paradisus Palma Real (Reserve) – Punta Cana, DR – Summer 2012
---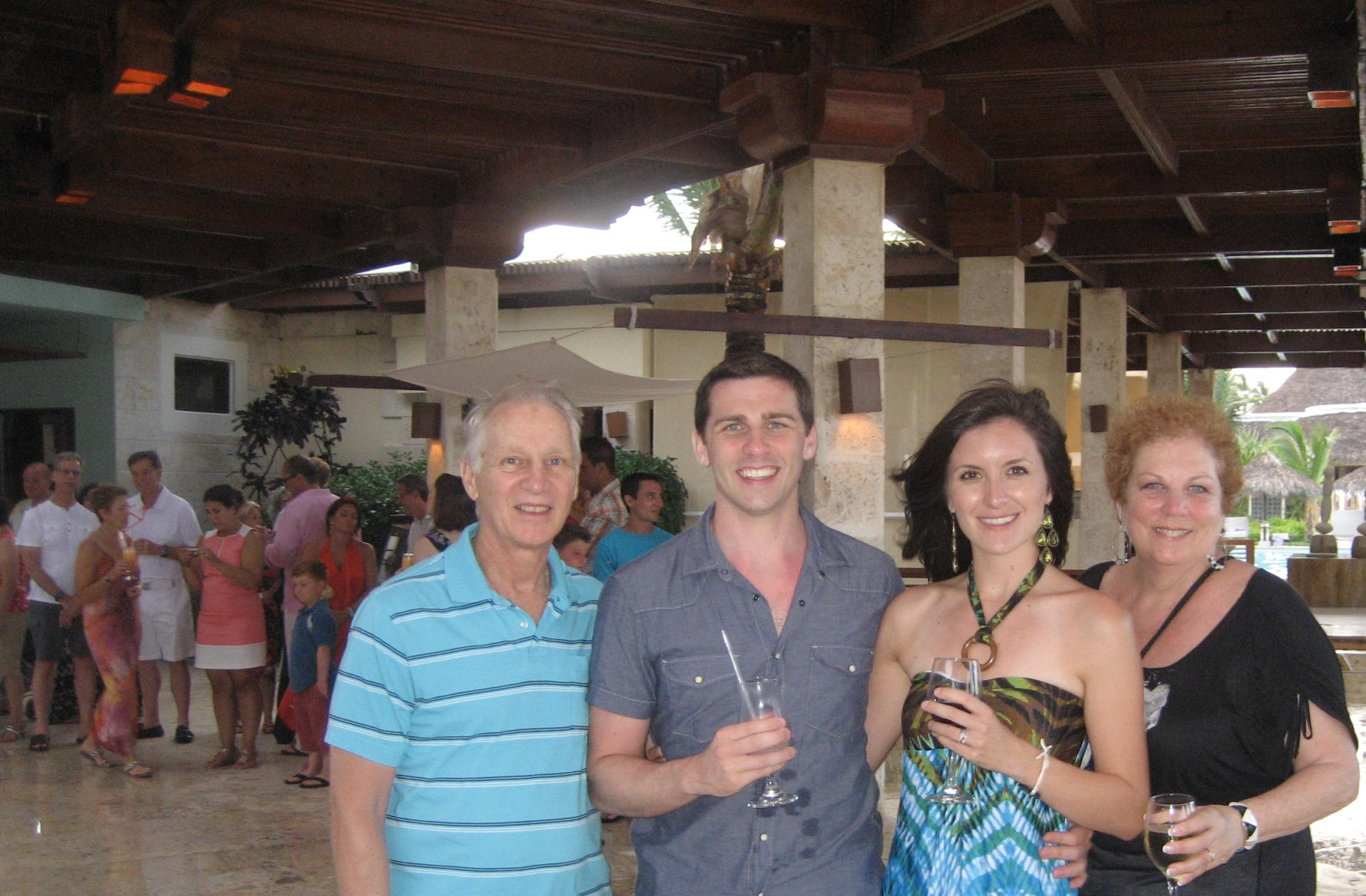 Hi Linda & Stella,

Paradisus Palma Real was truly a beautiful resort; we had a fabulous time with our family and friends. The resort staff was very friendly and courteous and Peter Frias was assigned as our personal concierge. He was very efficient and always available.

We appreciate you coordinating our trip since this involved people from several different states. Everything went as planned; your attention to detail and your prompt return of phone calls was greatly appreciated.

Needless to say, we will be using Partytimetravel in the future.

Regards,
Debbie & Eddie – Summer 2012
---
Dear Linda and Lynda,

How do we begin to thank you for such a wonderful trip? Not only was the trip amazing; but I don't know how you were able to plan it for us in one short week! We called with a Mission: Impossible type task and yet again you knocked it out of the park! Within 1 hour you had found us a fantastic cruise ship and had us ready to be in vacation mode!

We absolutely loved the Celebrity Summit to Bermuda! From the moment we pulled up we were treated like celebrities- our luggage handled with care, warm greetings from security members, and quick & friendly check-in at the port. But the most incredible part was when we were surprised with an AMAZING upgrade to Aquaclass! Now this was the way to celebrate our wedding anniversary! We were personally escorted by a Celebrity representative to have our picture taken for our ID cards and we were officially on vacation in less then 15 minutes after stepping out of the car! As soon as we were on the ship we were greeted with Champagne and Mimosas — we knew this was going to be a wonderful week — we were right! Our cabin was amazing (as Aquaclass guests we had a bottle of champagne and fruit waiting for us in our room upon arrival!), the views from our veranda were breathtaking, the service was impeccable, and the food was excellent.

As always your recommendations for Bermuda were awesome! "Linda's secret beaches" (that's what we call them) are gorgeous and not crowded with people. We felt bad when everyone was taking shuttles to Horseshoe Bay; but not bad enough to tell them about "Linda's secret beaches" and make them over crowded! Every hint or suggestion you gave was perfect and just what we were looking for! You truly are experts in EVERY sense of the word!

Thank you again for all your hard work and making our trip even better than we could have wished for! We can't wait to go on vacation again and see what great adventure you will come up with this time!

Dana and Kurt Weber – July 2012
---
Linda,

We wanted to let you know how much we enjoyed our Mediterranean cruise. It was a perfect trip from start to finish! Joe and I can't thank you enough for all your help booking the cruise. Your professionalism is to be commended. We are already thinking about where to go next. I am sure we will be in touch with you very soon to start booking our next great adventure.

Ita - January 2012 12 Day Mediterranean Cruise on the Star Princess
---
Just wanted to thank you both for everything you both did for our AMAZING honeymoon!!! We had a BLAST! The helicopter tour was WELL WORTH THE MONEY!! We went horseback riding, Zip lining, and did a waterfall mud bath tour!! We had BEAUTIFUL weather all week, it only rained once!

Thanks again for all your help!

Cassandra & Chris – Sandals St. Lucia La Toc - October 2011
---
Hello Linda & Stella,
Our vacation was great! We had an amazing time on the NCL Gem. We plan on in the near future to book a cruise with Party Time Cruise & Travel again. And thank you for the $75 on-board credit!

Thank you,
Vincent & Christina – October 2011
---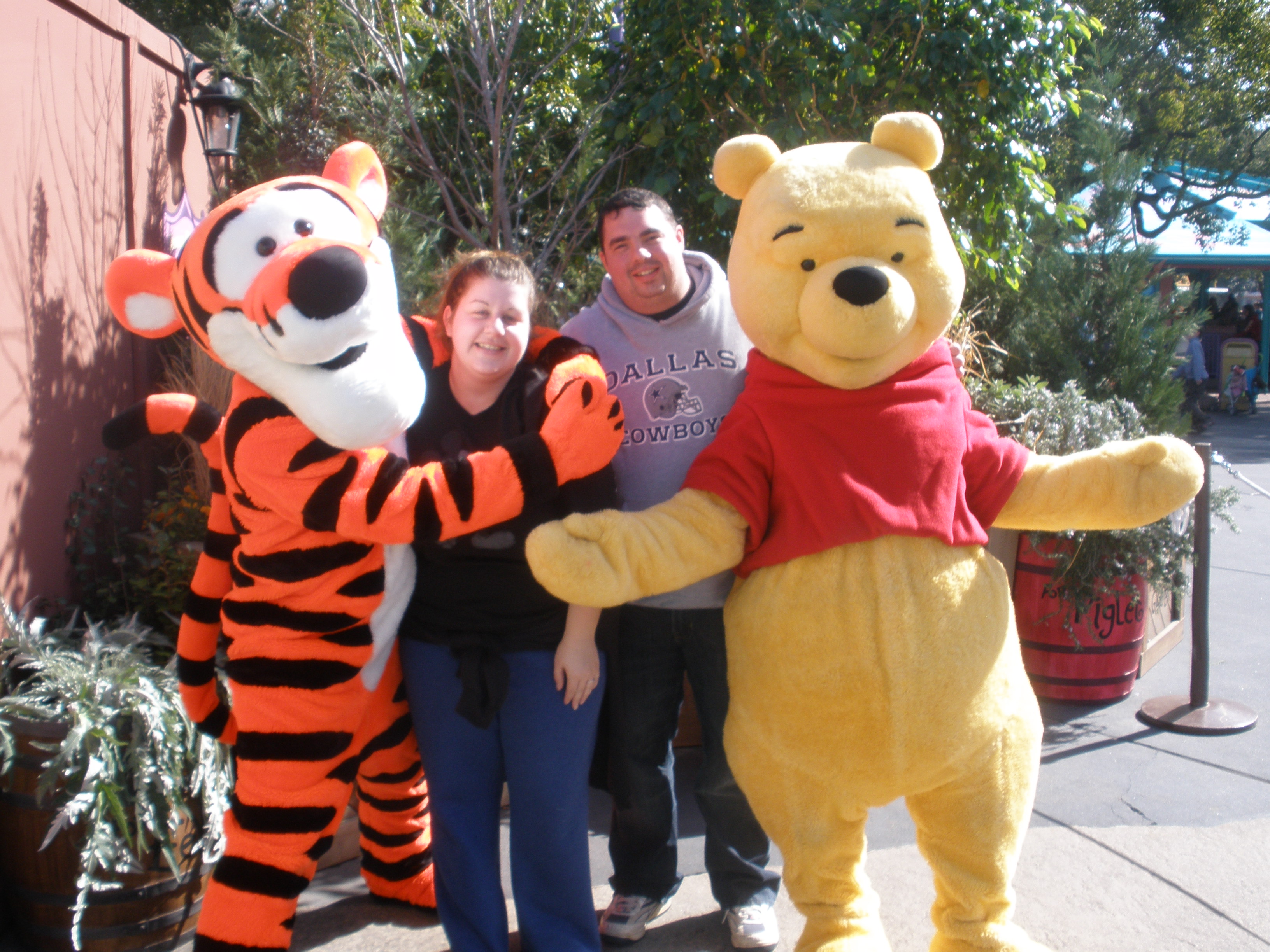 Linda(s):
We had the best vacation ever thanks to you guys!! Your knowledge and helpful tips made our vacation/honeymoon that much more enjoyable. You girls really know your stuff!! We can't wait to contact you for our next trip!! Thank you soo much for planning our magical Walt Disney World vacation!

Laura – Disney World, Port Orleans Resort - January 2011
---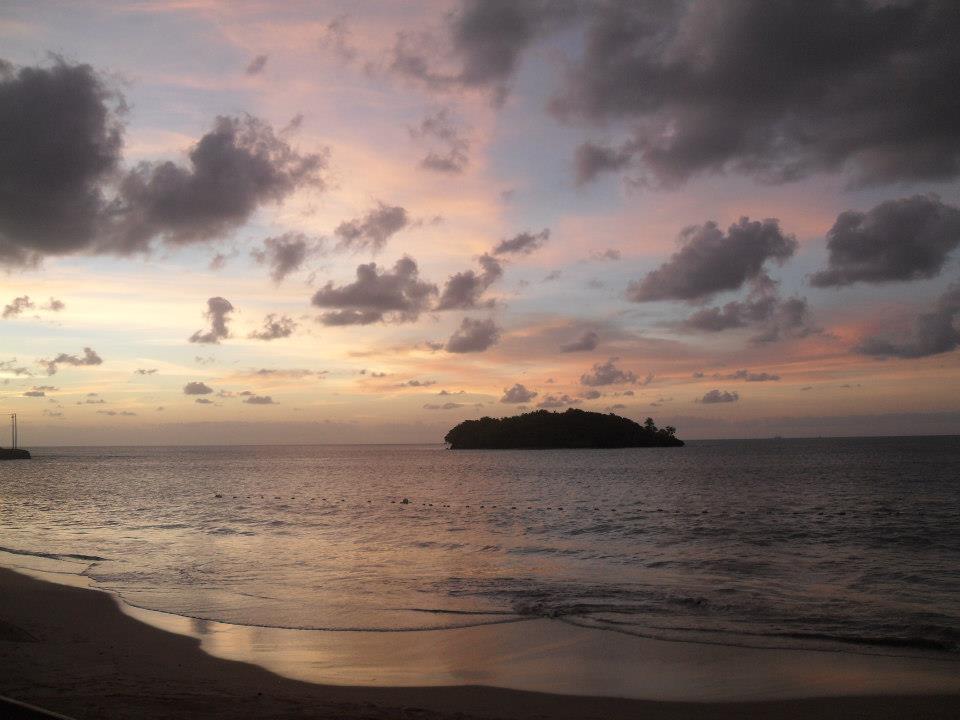 Lynda,
All I can say is you exceeded my expectations over and over again.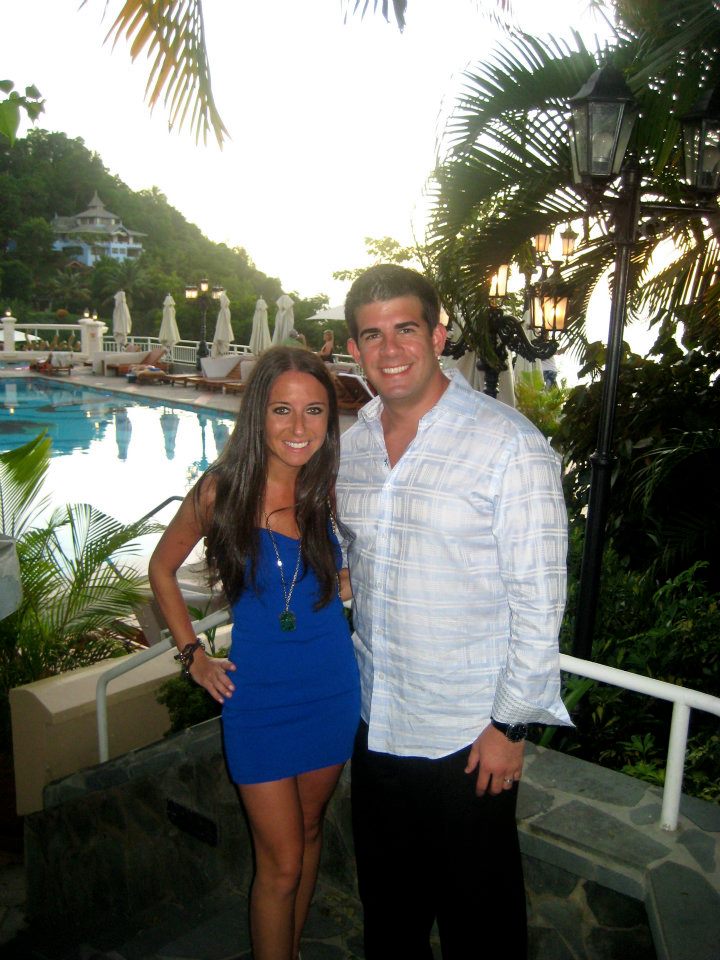 From the minute I contacted you to plan our Honeymoon; calling me to see how we made out after the hurricane a few months ago; wishing me a happy birthday; responding to my email at 10pm on a Tuesday night while we were on our honeymoon in St. Lucia to handle an issue we had at the resort and lastly your welcome home email. You really have perfected the meaning of Customer Service.
Thank you for all of your advice and recommendations. We are really glad we went with your recommendation to stay at the Sandals Regency La Toc in St. Lucia. Out of the three Sandals resorts on the island, this one was the most romantic and exclusive. The property was well kept and our two story villa was awesome. Your recommendation for the Butler Package made our trip unforgettable. From the minute we got there, we were handed a cell phone and told to call our Butler for anything we needed. It really came in handy for reserving chairs at the pool, delivering lunch poolside and drawing baths for my wife Hillary to surprise her. It's too bad we were not able to bring the butler back home with us!
Our honeymoon experience was great thanks to you! I have already started recommending you to friends and I plan on using your services in the future.
Sincerely,
Michael and Hillary
New York, NY
---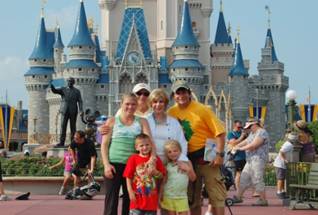 Linda and Lynda,

I would like to thank you so much for all you did on our amazing Vacation! The Oasis of the Seas was nothing short of PERFECT! Your recommendation was precisely what we were looking for and the kids had So much fun they wanted to move onto the ship. The hotel at Disney Was onsite, affordable and passed the ' Grandma test'. She was very Impressed with the cleanliness, fresh paint and new mattresses.

When you emailed me giving me several ways to contact you during Hurricane Irene concerned for my house and for us on the cruise I was Floored. You also told me you would go to my house and keep an eye on It. I knew that using a computer to book my vacation would not have given me the 'human' experience filled with expertise, compassion and Genuine friendship that your service provides. I can't imagine Travelocity selflessly offering to watch my house during a hurricane. :)

You recommended and planned the perfect vacation for my family and we Were so lucky to have you the whole way through. Thank you from the bottom of our hearts for everything and we can't wait to book with you Again. The sooner the better.

In Your Debt,
Your neighbors, The Chalfin Family
---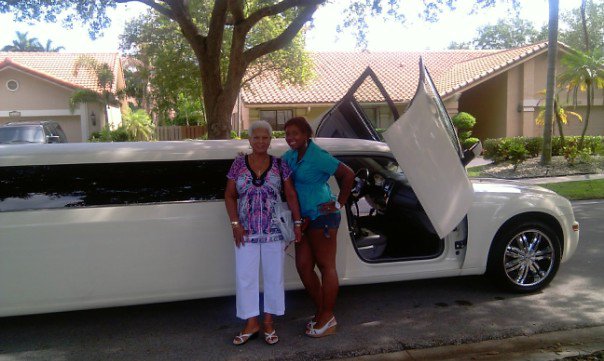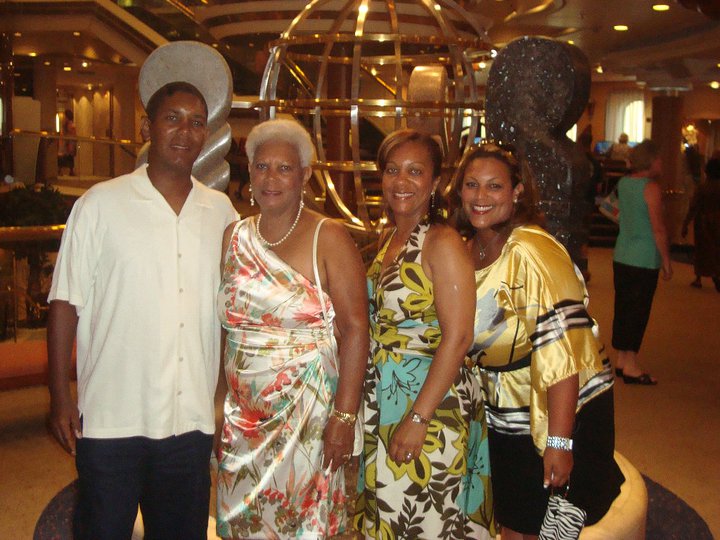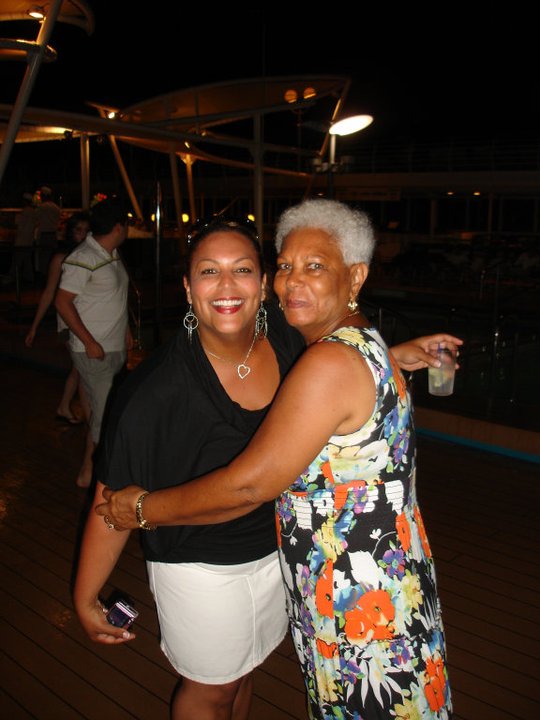 Royal Caribbean's Majesty of the Seas - 6/20/11
---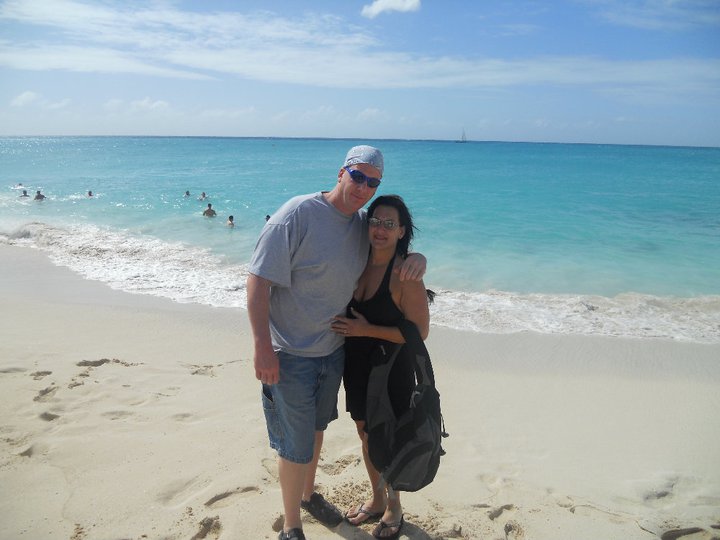 Thanks Linda for booking another GREAT cruise for us! As always, we had a FANTASTIC time! Royal Caribbean went above and beyond for their Suite guests on this cruise and the service was phenomenal!

Al & Lori – New City, NY
Liberty of the Seas – January 2011
---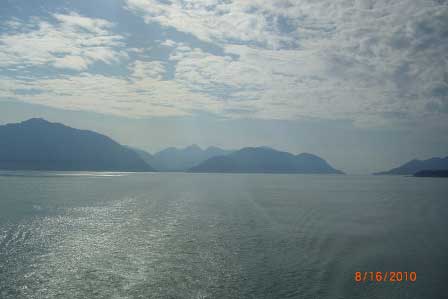 Hey Linda, We are on our way back from the cruise..... We had a very nice time. The suite worked out well. The ship was pretty good. The dinners at the dining room were very good. Ate at the Crown Grill which was excellent. Did 3 excursions....Mendenhall Glacier tubing, Yukon white Pass train ride and the Salmon fishing. All three were great. Caught 16 salmon. Having them sent home.

Just wanted to let you know. Speak to you soon.

Alan K. - Parkland, FL
Golden Princess - August 2010
---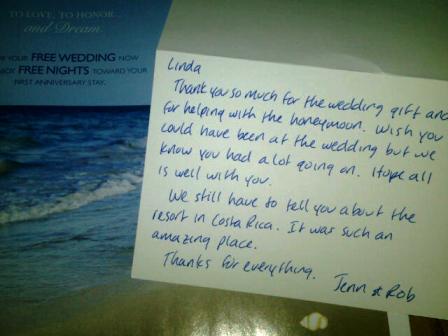 Linda,

Thank you so much for the wedding gift and for helping with the honeymoon!

Jennifer & Robert - Hartford, CT
Recreo Hotel, Costa Rica - August 2010
---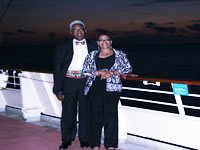 The cruise was wonderful as usual. The cruise director was absolutely marvelous and so much fun. The service, food and the Royal Caribbean 'little island' our last stop, was great.

They had a midnight buffet and dance one night. The casino was ok if you like that sort of thing. We only went once. We only went to the lounges when they had specific games going on that you could take part in. The cruise director's team had all sorts of activities lined up throughout the night if you cared to indulge. Most were lots of fun and you almost always won something. I really think the cruise director is the key. We had a great one who had loads of fun stuff and he was hilarious. So it made for a great time. What is also nice is that if you didn't want to do any of that stuff it was ok. You could just sit on the deck and read or by the pool all day.

We did not do much at the ports except shop for stuff. The island that the company has just for us was actually the best stop as far as I am concerned. They had lunch on the island, and they had stuff for the kids or you could just sit back and chill.

Rustins' – Virginia
Majesty of the Seas 2010
---
Hi,

It was fantastic; our location on the ship was perfect as well. Thank you!

The weather was okay. The four days off the boat were good weather but it was windy and cool on board. The last day was incredibly rocky and cool and Florida was cold for our last few days.

Rob can't stop talking about it and wants to plan our next trip.

I'll call you when we're ready! Not sure I would do February again, would rather rely on warmer weather. Might even do a summer cruise and leave locally.

I felt completely taken care of by the two of you for my first cruise which make a huge difference. I felt prepared more than if I had booked on my own and well-guided.

Best,

Suzanne & Rob
Liberty of the Seas – February 2010
---
Hi Linda(s)

We had a wonderful time!! The only complaint we had was we didn't go to Curacao. The water was rough and the ship couldn't dock. Was wondering if they compensate for that? Other than that we had an amazing time and loved cruising. We took a cab with another couple to a private beach in Dominica. Although the Country is dirt poor the beach was black sand and beautiful. I would recommend it.

We also did the snorkeling in St. John's which was amazing. We are glad we took the bump and would probably cruise for 10days... 7 doesn't seem like enough.. Ship was beautiful, met great people and even exchanges info with 3 of them. Two couples are in their 60's!! Met the captain and Adam had his picture taken with him.

We had a blast!! Adam bought me beautiful Tanzanite earrings in Aruba ...I love them!! He bought a watch in St. Thomas.

Thanks for all you help in planning this trip. Ps- Now, I have to lose weight!!

Sheri & Adam
Ruby Princess – January 2010
---
Hi Boo,

You told me to let you know how the Eclipse of a Lifetime Conveyance was.....It was fabulous, fantastic, a once in a lifetime experience....I am lost for words. We had a great time and Celebrity knows how to treat their guests. We felt like Celebrities on Celebrity. Attached are videos taken by 3 of the winners I thought you might like to see.

Jeanne Glenny
Favorite Cruise Line – CELEBRITY
---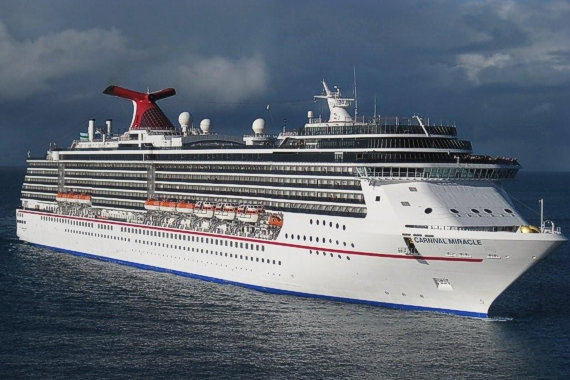 Dear Linda,

Thank you so much for all your hard work helping us with our cruise. It means so much to me knowing you were there for us, it has been a long few months for us. We cannot wait to get away. Please say Thank You to your daughter for us she is a very nice, kind, well spoken young lady she was very nice to me on the phone. Keep in touch. We will give you a call soon. Also can you send us some of your cards to give to friends.

Love,
The Stuarts, NYC
---
Linda,

I can't thank you enough for putting together a terrific vacation for my family. Everything was perfect from the time we boarded to the time we returned to Ft. Lauderdale. As you know this was our first cruise and I was unsure as to whether it would be something I would like. As it turned out it happened to be the greatest vacation I have ever had! I am ready to book another trip for my family with my Aunt and Uncle.

Thanks again for all your help in planning the perfect vacation.

Kathy, South Florida
Independence of the Seas – March 2010
---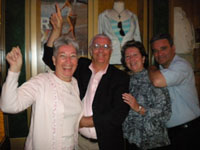 Linda,

With all kidding aside, keeping in mind the kidding was part of the fun. Mary and I had a terrific time on the cruise to Bermuda. We have not had a more enjoyable time on a cruise in recent memory. Beyond that, you and your daughter are extremely good to your guests. I don't ever remember being treated so well by a Travel Agent. Your attention to detail did not go unnoticed and your special attention to each of us was very refreshing.

With all the kidding and laughter going on, both of you managed to maintain a high level of professionalism that I found very refreshing. I work in a customer service type environment and found myself wishing I could present such care and concern to my "customers".

"Well done Partytime Travel" you out did yourselves and exceeded every one of my expectations!

Joey and Mary Sudano
Explorer of the Seas - Bayonne, NJ to Bermuda - September 26, 2009 Group Cruise
---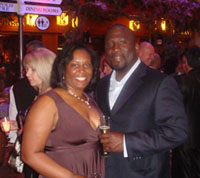 Dear Linda,

I wanted to write to thank for you taking such care in helping to plan our European cruise on Royal Caribbean. I probably wrote you with a million questions, during our booking process, but you responded quickly to each and every inquiry. In fact, we corresponded so much during this process, I feel like I have gained a friend, more than a travel agent.

Our trip was amazing! We spent the weekend in Barcelona, prior to taking the cruise to France and Italy. Thanks for your recommendations of hotels in Barcelona. The hotel we chose (Hotel 1898) was wonderful... great service, a welcoming staff and superb amenities. The hotel has a lovely rooftop pool, bar and lounge area. It was so romantic that my boyfriend chose it as the spot to propose to me, our first night in Barcelona. It was great! I can actually say that we got engaged while gazing at the Barcelona skyline from our chic hotel.

The cruise was also wonderful. We enjoyed all of the ports but I think that Rome was one of our favorites. There was just so much history to absorb and we took it all in.

Thanks to you, we upgraded to a balcony cabin. So, in addition to the ports, we spent a lot of time enjoying the sites from there. It was our favorite way to relax and unwind after a full day of sightseeing... the balcony, a glass of wine and listening to the waves.

Thanks again for helping us to plan a trip of a lifetime- certainly one that Kevin and I will always treasure!

Warm regards,
Denise & Kevin
May 2009
---
Linda Lettre of Party Time Travel was our wonderful travel planner for our daughter's Bahamas Wedding Cruise. We were a group of 39 people from the US and England. Our trip included hotel reservations in Orlando, Florida, a cruise on Royal Caribbean's Sovereign of the Seas and group transportation from the hotel to the pier at Port Canaveral with an airport return.

Linda worked with us at every step along the way. The cruise portion included a cocktail reception aboard the ship after a Nassau beach wedding. Linda's expertise and knowledge made every detail perfect. We would like to note that all this planning was done within a seven month period and it all worked out without any problems.

Linda is always available when questions arise and has the knowledge to solve any situation. We will continue to rely on Linda for all our travel planning and cruise vacations as she treats her clients like family. We highly recommend Linda and her company, Party Time Travel.

Andrea and Howard Krew
Scottsdale, AZ
---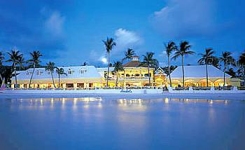 Dear Linda,

I just want to thank you so much for helping us book the most wonderful honeymoon ever..the island was amazing and the resort was awesome!! the staff was friendly and the food and drinks were great.. all around a super fun trip.. 90 degrees everyday no rain, who could ask for more the only negative thing was no lobster but that's because it wasn't in season! No ones fault on that... the flight lay over wasn't a big deal going but a little annoying on the return but all in all a pleasure..

Thank you for referring us to the St. James Club. Everyone on our flight from San Juan to Antigua got married on 6/7 and they were all going to Sandals, and I was glad we went where we did. It wasn't over booked actually seemed kind of dead but that just what we were looking for. No hunting for a lounge chair on the beach or having to deal with large crowds. it was perfect.. Lin you are great!!!! Thank you, thank you, thank you!

Nicole
---
Dear Linda,

Overall I'd rate the trip as an A-. While the ship was great, especially the Princess staff who were very helpful to us kosher folks (we gave up on the kosher frozen meals because the vendor they used provided a terrible product). So our Headwaiter and the Chef, who we pre-tipped generously went out of their way to prepare fresh fish and vegetable meals for us baked in aluminum foil. So I'd rate the cruise experience A+.

The ports we stopped in (Ketchikan, Juneau, Skagway) were all primarily tee shirt and Caribbean jewelry emporiums, very touristy (B). The add on excursions we chose were very good (A).

The trip by rail to Denali after leaving the boat was endless. I'd rate the rail experience as a B, not because of distance, which is a fact that can't be altered, but due to the nature of the rail cars. Instead of forward facing seats, passengers sit at four person tables. Doing that opposite total strangers for eight hours with your knees banging into each other is taxing. Regular seats as in a motorcoach or Amtrak would be much better.

The Princess Lodge in Denali is beautiful (A). We did not take the included nature tour in Denali Park because the Frommers/Fodors/Lonely Planet advice was to take the much longer extra Tundra Wilderness Tour, an 8 hour add on in a specially rigged school bus. While these buses are not super comfortable, the tour was fantastic A+.

The second night in the Princess Mt. McKinley was a waste. While the Lodge is beautiful A) it offered nothing that a second day in the Denali Princess wouldn't have provided and without another long bus ride.

The Hotel Captain Cook in Anchorage was beautiful (A) and Princess' ferrying us from place to place by motorcoach was excellent. Anchorage as a city is nothing to write home about.

So all in all it was a mixed bag of excellence combined with the ordinary, not surprising for an 11 day excursion that covered so much distance.

Highlights: The ship (A+), Princess Service (A+), Cruising in Glacier Bay and College Fjord (A), Denali (A+), Princess Lodges (A), Hotel Captain Cook (A)

Lowlights: Ports (B), train to Denali (B), Anchorage (B)

That's my detailed analysis. Overall we had a great time, good rest and saw some beautiful things on a gorgeous floating hotel.

Thank you Linda.

Would we recommend it, "yes".
Edward R. Burns, M.D.
---
This October will be our third time cruising with Linda and Mike Lettre.

We keep coming back to them because of the special care and attention they give us. They don't drop you and become inaccessible after you've made your reservations with them. You're kept up to date on all of your travel arrangements, right up to the day of departure.

We also love the fact that they're right onboard with us on some of our sailing seeing to the smallest details. They do everything they can to ensure you have the best travel experience ever. They know everything about the ship you're on from the date of its maiden voyage to which waiter makes the best pool side drinks to which spa treatments really make you feel good. And when you arrive at your port of call, they know where the best beaches and shopping areas are! In short, you get the works!! And in between cruising, they keep in touch with you, wanting to know how you're doing and if your family's well. And they'll always let you know when a great cruise is coming up so you can take advantage of booking early.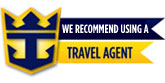 They're wonderful and outgoing and we like being around them. They and their staff at Party Time Travel are simply, the best!

See you on the Freedom in 2007!!
Denise & Ricardo Duncan
Brooklyn, NY
---
My husband and I met Linda on our first cruise to Bermuda.

We were so impressed that we booked a cruise the following year with her. She is so knowledgeable about absolutely everything including the best rooms, best seating for dinner and where to go and not go on shore. When she has a group going everyone is so friendly and they go out of their way to get to know you.

I have booked many cruises with her including cruises to the Caribbean, Alaska, the Mediterranean and Bermuda. Every one of them has been perfect. My only problem is saying no to her when she emails me with all the great deals she has! I would totally recommend Linda and her staff at Party Time Travel.

Judy D'Errico
Newington, CT
---
We have used Party Time Travel for 9-10 years. They have always advised us very well in all areas. Linda has gone beyond the normal for us when extra help has been needed.

Dave & Ruth Cranstoun
Nanuet, NY
---
My name is Bill. I have taken 2 cruises using Party time travel with Linda Lettre. I wanted to mention on her website, just how satisfied I was with the trip and the manner in which I was treated. I had a splendid time. Linda is so nice and certainly does a terrific job for her clients. I felt more like a friend than a client.

She was very helpful and explained everything so that it was very easy. These were my first ventures into the realm of cruising and she made the experience wonderful.

I look forward to my cruise with her on October 14th. aboard the Freedom of the seas.

Sincerely,
Bill Winder
October 2007
---
We are writing to express our appreciation and satisfaction with Party Time Travel. Our travel agent Linda Lettre is the best. We have booked 10 cruises and land/air vacations through Party Time Travel. Linda always provides services above and beyond our expectations. She is always professional, efficient, and considerate. Linda has consistently "gone the extra mile" to ensure an enjoyable and memorable experience. We have complete trust and confidence in her and her ability.

We unequivocally recommend Party Time Travel.

Nancy and Frank Fremont
Rockland County, NY
---
I, Angelica Santana, have been traveling with Linda for about 6 years. I became a client of Linda and Mike by a book. I was doing research for a cruise to Alaska and I bought a Cruise for Idiots book and one of the first things it had was to find travel agents who specialized in cruises. So driving on Main Street in Nanuet, NY, I noticed Linda's window which had a commercial on cruises. So you can say it was luck for me, but with Linda it might be a little different than luck. Well any way she has stuck with me. And this next cruise will be my 4th with Party Time Travel.

I just wanted to say is that she takes care of all her clients. To Linda and Mike their clients are more than clients they are friends and family. You couldn't get a better pair.

Angelica
---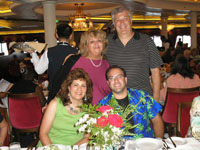 My husband and I had the wonderful experience of being on the ship "Freedom of the Seas".

Thanks to Linda and Mike who I met for the first time, we had an amazing vacation and everything was absolutely perfect!! Our room had a balcony, the service was terrific. We had the pleasure of dining with the Captain which was a memorable experience!! I can go on forever on how much we loved the whole cruise so I will try to be brief by saying that I am going on 2 more cruises thru Party Time Travel and I recommend that everyone trust Linda and Mike who will steer them in the right direction. They make you feel like you are family; they don't mind answering a dozen questions and always return phone calls promptly. I have booked trips thru other travel agents before and you can NOT compare the expertise that Linda and Mike have to offer.

They are truly honest and extremely caring. I look forward to my next cruise and my husband and I can not thank them enough for all the accommodations. I will follow up with some photos!

Nancy Raspanti
Long Island
---
Lynda and Linda,

Just wanted to thank you so much for helping me plan a surprise 60th birthday gift for my husband, Joe. The land tour/cruise to Alaska on Royal Caribbean was absolutely fantastic. We arrived in Fairbanks at 8am after a "redeye" flight from Denver. We were concerned that we would have to wait half the day for our room at Pikes Waterfront Lodge to be ready but much to our delight they not only gave us a room but they put us in a cabin at the water's edge away from the main lodge. This allowed us a very quiet spot to catch a nap before exploring the Fairbanks area. Here is a travel tip: Pike's Waterfront Lodge is only 10 minutes away from the airport. They have a free shuttle service. We called when we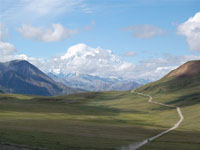 got to baggage claim and they were waiting out front for us 10 minutes later.

The time spent in Denali was amazing. We hiked our little butts off. There is a great hike just a 5 minute walk from the McKinley Lodge to "Three Lakes". We saw and heard a moose but luckily never came face to face with it. Did catch a glimpse of a bear at the river's edge on a hike across from McKinley Lodge. Had a full day tour of Denali Park which was breath taking. We were lucky enough to see both peaks of Mt. McKinley.

I can't say enough about the train ride from Anchorage to Seward. It was a beautiful sunny day and the scenery was fantastic. Got some great photos along the way. We were lucky enough to be in the last car of the train which provided an unobstructed view from the back platform. The breakfast that was served in the dining car was excellent.

The cruise from Seward to Vancouver was very relaxing. We stopped in Juneau, Skagway, Icy Strait Point and Ketchikan. Another few travel tips: Stop at the National Park Service office in Skagway for a free educational tour of the town. It was given by an elderly gentleman who had a wealth of knowledge. Don't hesitate to take the snorkeling excursion in Ketchikan. It was absolutely fantastic. You wear a 7mil suit so the water temperature is not a problem and the marine life is amazing. The 8-9 foot jellyfish were a sight to behold and the kelp was beautiful. The water is crystal clear. Of course, being able to wear the "snorkel Alaska" shirt with pride is great!

Overall, we had a fabulous time and would highly recommend this land tour/cruise to your other customers.

Last travel tip: Joe and I purchased a couple of souvenir mugs our first day there and used them when we got to the ship for our morning coffee. Those coffee mugs on the ship are just not big enough. We had many jealous ship mates who had wished they had done the same.

Ita