Welcome to our Bridal Registry Page

…Give the best engagement/wedding gift…
A donation towards the bride & groom's honeymoon!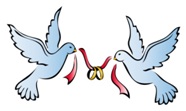 Looking to contribute towards your friend or family members Honeymoon? Please find their name below and click on the link to EMAIL us your information. Include how much you would like to give as a gift, your name and contact information. One of us staff members will return your call or email. Gift Certificates are then issued for you to present at the Bridal Shower, etc.
– Please click on their names to send your gift.
- July 2020, Sandals Resort
If you want to get personal, feel free to give us a call directly at 845-623-7644. Mention the bride or groom's name and that you are looking to give a gift towards their Honeymoon. It's that simple!